Nordiq Canada Updates 2022-23 Domestic Race Schedule
Nordiq Canada Updates 2022-23 Domestic Race Schedule
Nordiq Canada to address two changes to domestic race calendar during Town Halls, August 28-29
CANMORE, Alta.—The 2022-23 cross-country skiing race calendar in Canada will open on familiar trails for Canadian athletes at Sovereign Lake Nordic Centre (November 30 – December 4) and culminate with a newly refined look to the Nordiq Canada Ski Nationals in Thunder Bay, Ont. (March 11-17).
Nordiq Canada announced a finalized schedule on Thursday that will showcase the sport at all levels while leading all Canadian athletes in the system to some of the top ski trails across the country for Canada Cup, Nordiq Cup – Continental Cup (COC) Series, and US Super Tour races.
"This winter's event lineup will provide high-quality, competitive development race opportunities for a new generation of skiers who are at various stages in our system," said Julie Beaulieu, sport development director, Nordiq Canada. "Hosting major events for athletes in all corners of Canada is critical to the continued growth of our sport and for developing a new generation of Canadian cross-country skiers into elite international athletes in our sport."
The season-opening events will be staged at Sovereign Lake Nordic Centre. Originally scheduled for Canmore Nordic Centre, the first events of the season – Nordiq Cup and US Super Tour races (November 30 – Dec 1, 3, 4), and Western Canada Cup (Dec 3 -4) – will take place near Vernon, B.C.
Nordiq Cup events will focus on Tier 1 FIS-sanctioned races for the combined Open/U20 categories. These events will include Nordiq Canada Selection Trials which are scheduled for Caledonia Nordic Ski Club in Prince George, B.C. This year's Trials will be the FIS World Junior/U23 Nordic Ski Championships qualifying ground for Canada's junior and Under-23 athletes, January 17-22.
Canada Cup races will put an emphasis on providing development level, regional race opportunities in an effort to reduce travel time and costs for athletes and clubs. The FIS-sanctioned Tier 1 events will be held in conjunction with Tier 2 (non-FIS sanctioned) events.
The domestic calendar will take the community to Nakkertok Nordic (Gatineau, Que.), Mont Sainte-Anne Cross-Country Ski Centre (Mont Sainte-Anne, Que.), and Kimberley Nordic Ski Club (Kimberley, B.C.) before capping the season off with Nordiq Canada Ski Nationals at Lakehead Superior Nordic Ski Association in Thunder Bay, Ont., March 11-17.
In an effort to provide more high-quality racing in an equal number of sprint and distance events, in addition to making the most prestigious annual event on the 2023 domestic race calendar more cost effective for all participants – including athletes, coaches, wax techs and officials – Nordiq Canada will reduce the schedule at Nationals by two days.
"Development is a year-long process, and therefore, it is our goal to provide fewer, yet a higher-quality, race schedule at our National Championships that is balanced and fair for all athletes in all age groups to test their skills against the best in the country," said Chris Jeffries, high-performance director, Nordiq Canada. "We are absolutely thrilled to have the opportunity to support the development of our athletes while bringing our ski community to many of the top Nordic venues in Eastern and Western Canada as we launch a new Olympic and Paralympic quadrennial together."
More than 700 senior, junior and Para-Nordic skiers will compete for national crowns in both sprint and distance races on the trails at the Lappe Nordic Ski Centre which previously played host to the Nordiq Canada Ski Nationals in 2018 and 2015.
Canada will also host to the 2023 FIS World Junior/U23 Nordic Ski Championships in Whistler, B.C. The 10-day event will bring the best 16 to 23-year-old cross-country skiers, as well as athletes in Nordic combined and ski jumping, from 50 countries to the 2010 Olympic and Paralympic venue, January 27 – February 5.
Nordiq Canada Domestic Race Schedule / FIS Race Calendar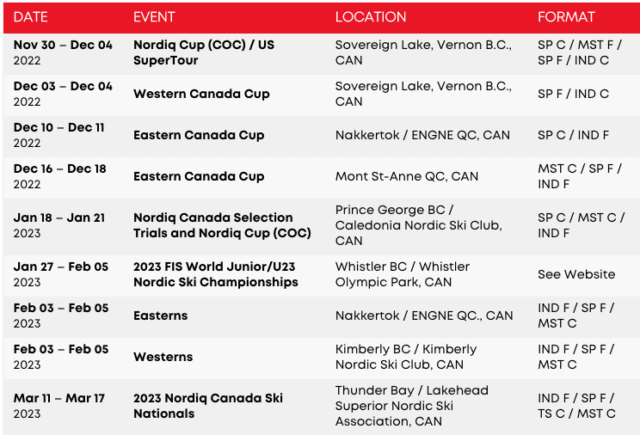 Nordiq Canada will discuss all details of the 2022-23 domestic calendar with Canada's high-performance cross-country ski community during a Town Hall, scheduled for August 28-29.