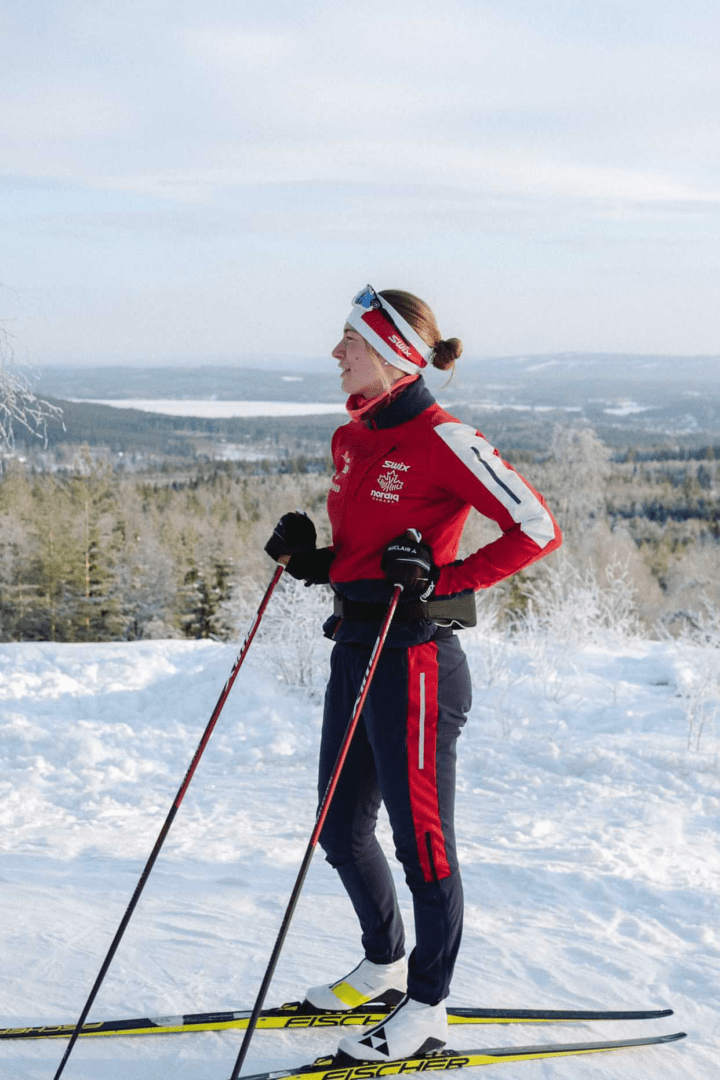 Team Canada Athletes Take COVID-19 World One Stride at a Time
Sharing down time with teammates and competitors from other nations during an international sporting competition is typically a highlight of the experience.
During the COVID-19 pandemic, not so much.
"I remember very clearly the third or fourth night we were here, when we actually started eating at buffets with other teams, I remember walking into the room – okay, we're eating in the same room as three or four different teams, all from the same buffet!" recalled Xavier McKeever, a member of the Canadian team which competed at the World Junior Nordic Ski Championships in Finland in February.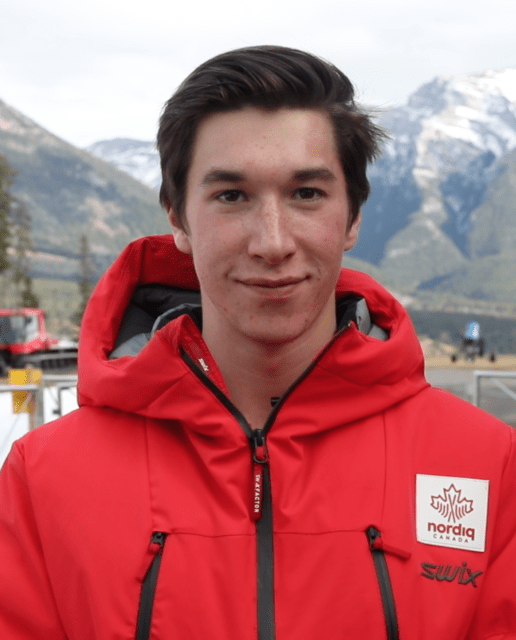 "You have a little bit of a panic attack. But you have to remember that everyone's been tested. In theory, it should be safe. Just focus on the things you can control because at the end of the day, everyone's in the same boat."
This cross-country ski racing season has been like no other for Canadian athletes. With no domestic competitions due to provincial restrictions, they've had to make due with training. For those fortunate enough to travel to Europe for events, the rules and regulations in place have been daunting.
"For me the biggest thing of doing all the logistics is, if you want to react to things or change plans, it becomes very difficult," pointed out team leader Joel Jaques.
"Even for a World Junior Team going to Europe, we were a bit uncertain of the changing restrictions moving forward in Canada. If we cancel flights, you can't just re-book for the next day. You need COVID tests arranged, valid within 72 hours, get those results and then they can travel.
"To bring staff in quickly is the same thing – when you find out someone doesn't pass their pre-departure screening due to having COVID in the past, it takes a minimum of four days to get someone off the ground in Canada. So that's a huge time delay for us."
This is the new reality for travelling internationally to compete in the COVID world.
Jaques and his team were recently in Vuokatti, Finland for the Junior and U23 Nordic World Ski Championships. Once they actually got there, experiencing each country's different protocols became a bit of a headache. For instance, border control has to receive documentation prior to being allowed into another country.
And that means more testing.
"Everyone is tested when they leave Canada, they're tested when they arrive, and before they start racing they're tested again, and then again before they leave," pointed out Jaques. "I've been in Europe for two and a half weeks now, and I have had nine tests!"
An extensive plan put in place by Nordiq Canada has been the road map to ensure athletes and staff are safe and comfortable while living, training and competing in the FIS bubble.
"We've created pods within our team," explained leader Julia Ystgaard, an Alberta high performance coach. "All of our meetings are socially distanced or virtual. The staff is one pod, male athletes one pod, female athletes one pod.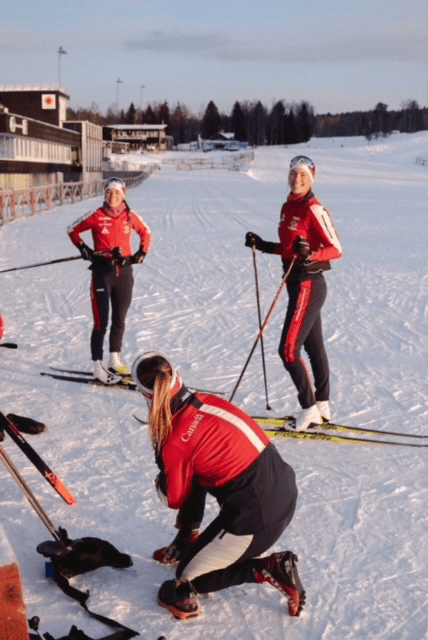 "The only contact the staff has is outdoors. We try to minimize it as much as possible. If we get a positive case, it won't take out the entire team. We had lots of pre-meetings before we brought the team to Europe to make sure, read them the riot act of COVID and the effects and the consequences. The team has been really good at minimizing the risks."
Ystgaard was also with the Canadian team in Lahti, Finland during World Cup events where they experienced first-hand the uncertainty.
Two team members had COVID well before travelling to Europe and were shedding the virus but were still testing positive. The entire team had to quarantine until documents were presented stating that the two athletes were no longer infected.
"There are so many people involved in each event that with all of the regulations, if you have a special case like we had in Lahti, there are a lot of people you need to be in touch with before things can go smoothly," she explained.
"In Lahti, we went from thinking we definitely weren't going to be able to race, and we were not even sure if we were able to race the next weekend in Sweden. Then suddenly, when we got the right papers sent in, we were ready to race. So that was a quick change to the mind-set for the athletes, which they handled very well. They all know we can't do everything 100 per cent smooth here, but they're adapting easily and being patient."
Hand sanitizers in their rooms and the wax room, fully masked inside the hotel and during any other transport. Everyone trying to do his and her part to minimize the risk with no margin for error.
Travelling to Sweden, the World Cup Team had to adapt to another country that has its own set of COVID rules, while enjoying a mini-camp in preparation for the Senior World Nordic Ski Championships in Oberstdorf, Germany.
"It's what makes it so exciting to be on the road now," insisted Ystgaard.
"You never know what's going to happen the next day. The pandemic has been going on a while, so I think we're all very prepared to not be prepared for a lot of situations. We try to plan as much as possible but we're always ready to adapt and be ready for whatever that change is. I think that's what's been important about moving from place to place."
For the athletes who like a schedule and a specific routine, this 'new normal' has taken getting used to.
"I think it's the stress of not having 100 per cent control of what's happening," suggested Katherine Stewart-Jones, 25, from Ottawa.
"We're traveling through airports (with strangers), and we may not have control around eating. It's definitely been stressful. But I've come to the conclusion that there's only certain things you can control and just be as careful as I can. I think I was more stressed about everything COVID-wise before we started racing. Once we started racing, so much more energy is put into that."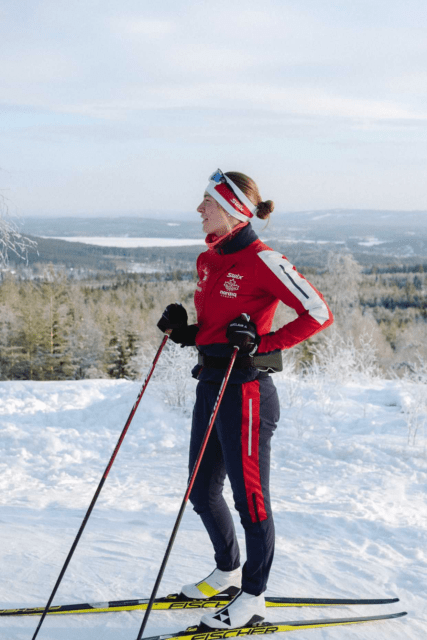 "Definitely not really knowing what races are going to go ahead, even a few weeks beforehand, has been quite a big adjustment," added Dahria Beatty, a 26-year-old Olympian from Whitehorse, Yukon. "You have to really try to stay relaxed and go with the flow which, for athletes who like to be prepared and in control, is difficult.
"It takes some extra focus and support this year. Especially in the race season, maybe the emotional highs and lows have been a little bit larger than other years. But you use all the same tools as an athlete; making sure you're using the strategies you have to focus on what you can control. It takes a few more reminders right now because it's not the first natural tendency."
One of the other obvious no-no's this racing season has been fraternizing with athletes on other teams.
"Being on the World Cup circuit over time you make friends with other nations," said Beatty. "That communication and spending time with friends you usually see in the winter isn't there this year. You're with your own team except when you're on the course racing. That's definitely a bit different. We have a great team dynamic, and we get to spend even more time together so that's not bad."
And then there's the inevitable testing. It may sound like a drag, but knowing that people around you are healthy gives the athlete one less – albeit huge – thing to worry about.
"At the end of the day, everyone would agree it's well worth it to get that chance to compete and make sure that everyone is safe and that there's nothing bad happening with COVID on the teams," said the 17-year-old McKeever after returning home to Canmore.
"The tests are definitely uncomfortable, with the nose swab," Beatty chuckled, "but it's a momentary 10 minutes of pain for a good reason and it allows us to compete and have a season."
In the end, that is the prevailing sentiment among Canadian athletes: just having the opportunity to compete at a time when other sports are having to sit on the sidelines and wait for a healthier scenario. And for that, they're all willing to sacrifice just a little bit more.
"I was super stoked to go and race," said McKeever. "My main season goal was to go to World Juniors. It's been a different experience, and very interesting."
The World Cup schedule continues to face cancellations due to changes to the pandemic and regulations imposed in different countries but next stop for Team Canada is Oberstdorf, Germany.
"Things are constantly changing," noted Beatty. "You just need to take it one day at a time and be thankful for the race opportunities you do get.
"It really gives you an appreciation for being able to race. Having three World Cup weekends done … we feel very lucky to be over here racing at all."Rita Mingo