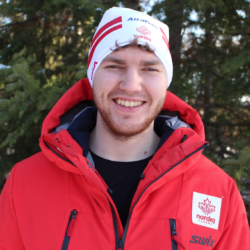 Date of birth:
May 26, 1998
Place of birth:
Winnipeg, MB
Hometown:
Kenora, ON
Club:
Kenora Nordic
Coach:
Tamara Howard, Kate Boyd
Personal sponsors:
Qualico Homes, Jim and Leney Richardson, Grace Anne II
Equipment:
Skis: Rossignol
Boots/Bindings: Rossignol
Poles: Rossignol
Background
Background:
Being a fan of the "Great Outdoors", cross-country skiing was a natural fit for Jesse from day one. In 2015, at the age of 16, a local Kenora ski coach introduced him to his first experience on" skinny skis", and he knew he was hooked!
He skied his first race as an able-bodied competitor with his then coach/guide, Pam McDonald, at a local Manitoba race. Soon after Jesse joined the Manitoba Provincial Team as the only para athlete. In that first season of skiing he had the opportunity to attend the 2015 Canada Winter Games, with his new guide Brendan McDonald and they left Prince George with a silver and two bronze medals followed by a successful Canadian Ski Nationals where they skied their way to two golds and a silver. At the conclusion of the season, Jesse knew he had found his passion! He wanted to pursue competitive skiing and now had bigger dreams.
Personal:
Jesse was born with no central vision and by the age of 15 was further diagnosed with a degenerative eye disease that also took his peripheral vision. He credits skiing and the para community for helping him through a very difficult time in his life. Jesse has never let his loss of vision hold him back. He realizes there are things he can control and things he cannot. What he is in control of is his attitude and outlook. Jesse focuses on what he can do, and not what he can't. He may be blind, but his vision is clear!
Jesse hopes to be a mentor to other kids with visual impairments and to show them that you can do anything ,if you set your mind to it! When he is not training on Nordic skis, Jesse loves to snowboard and is an instructor at his local ski hill. In the summer he spends his time kayaking, paddle boarding, canoeing and fishing.
His greatest inspiration comes from his family. They have always encouraged and supported Jesse in trying new things.  His greatest athletic inspiration is Brian McKeever. Having skied his first overseas races at the 2019 World Cup in Finland with Brian, it was definitely a dream come true for Jesse.
Notable Results
Career Highlights:
2019 – Canada Winter Games, Red Deer, Alta.: 1 (sprint), 3 (middle distance), 3 (long distance)
2019 – World Para-Nordic Championships, Prince George, B.C.: 11 (sprints), 10 (long distance), 15 (middle distance)
2019 – U.S.A. Nationals, Craftsbury, VT: 1 (sprints)
2018 – Para-Nordic World Cup, Vuokatti, FIN: 13 (sprints), 15 (middle distance), 12 (long distance)
2018 – Canadian Para-Nordic Ski Championships, Canmore, Alta.: 1 (middle distance), 1 (long distance)
2018 – Eastern Canadian Championships, Gatineau, Que.: 1, 2
2017 – Para-Nordic World Cup, Canmore, Alta.: 13 (middle distance), 8 (long distance)
2017 – Alberta Cup: 2 (middle distance), 2 (long distance)
Full Results
World Championship Results:
World Para-Nordic Championships, Prince George, B.C.: 11 (sprints), 10 (long distance), 15 (middle distance)
World Cup Results:
2018 – Para-Nordic World Cup, Vuokatti, FIN: 13 (sprints), 15 (middle distance), 12 (long distance)
2017 – Para-Nordic World Cup, Canmore, Alta.: 13 (middle distance), 8 (long distance)