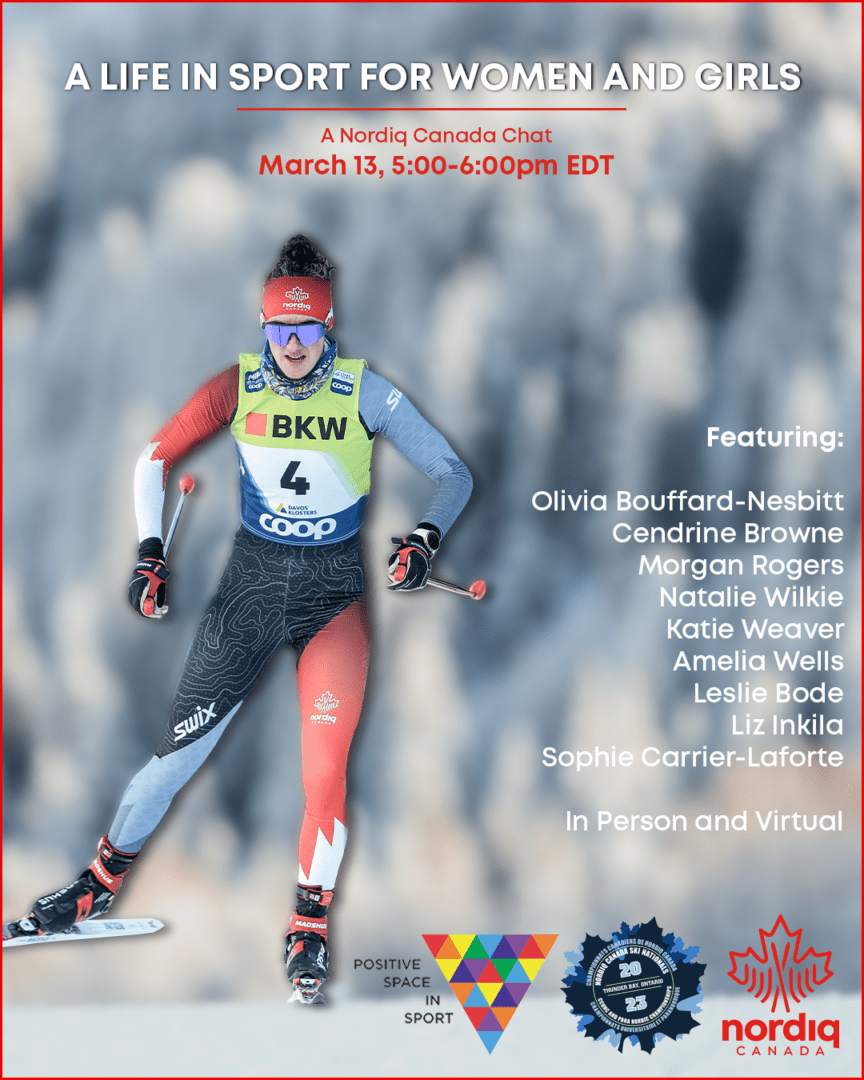 A Life in Sport for Women and Girls, A Nordiq Canada Chat
Nordiq Canada is pleased to invite you to our event "A life in sport for women and girls" – which will bring together women and girls from across Canada to connect with, learn from, and inspire one another to stay involved in sport for life.
Featuring:
Cendrine Browne, 2X Olympian, National Ski Team alumni athlete, Ski de fond Quebec Athlete Coordinator
Katie Weaver, 2023 FIS Nordic World Ski Championships team, Nordiq Canada Athlete Rep
Olivia Bouffard-Nesbitt, 2022 Olympian, 2023 FIS Nordic World Ski Championships team, Ski Coach
Natalie Wilkie, 2x Paralympian, National Ski Team Athlete, 7x Paralympic Medalist
Amelia Wells, U23 FIS Nordic Junior World Championships team, post-secondary student
Leslie Bode, NTDC coach and wax tech,
Liz Inkila, XCSO Executive Director, Level 3 official
Morgan Rogers, Nordiq Canada Board Member, Psychology in Sport Professor UofC, Coach
Sophie Carrier-Laforte, Coach
Learn about:
What does a Life in Sport in cross-country skiing look like?
What are the opportunities and benefits?
What skills can you achieve?
Your value to the sport and community and why it's so important.
Date: Monday, March 13
Time: 5:00-6:00pm EDT / 3:00 – 4:00 MST
Location: Magnus Theatre, 10 Algoma Street S, Thunder Bay, or Zoom
Zoom Invite: https://us02web.zoom.us/j/83846493249
Meeting ID: 838 4649 3249
No registration is Required.
Nordiq Canada is proud to provide Positive Space for this event.
For more information email Nathaniel Mah () or Morgan Rogers ()