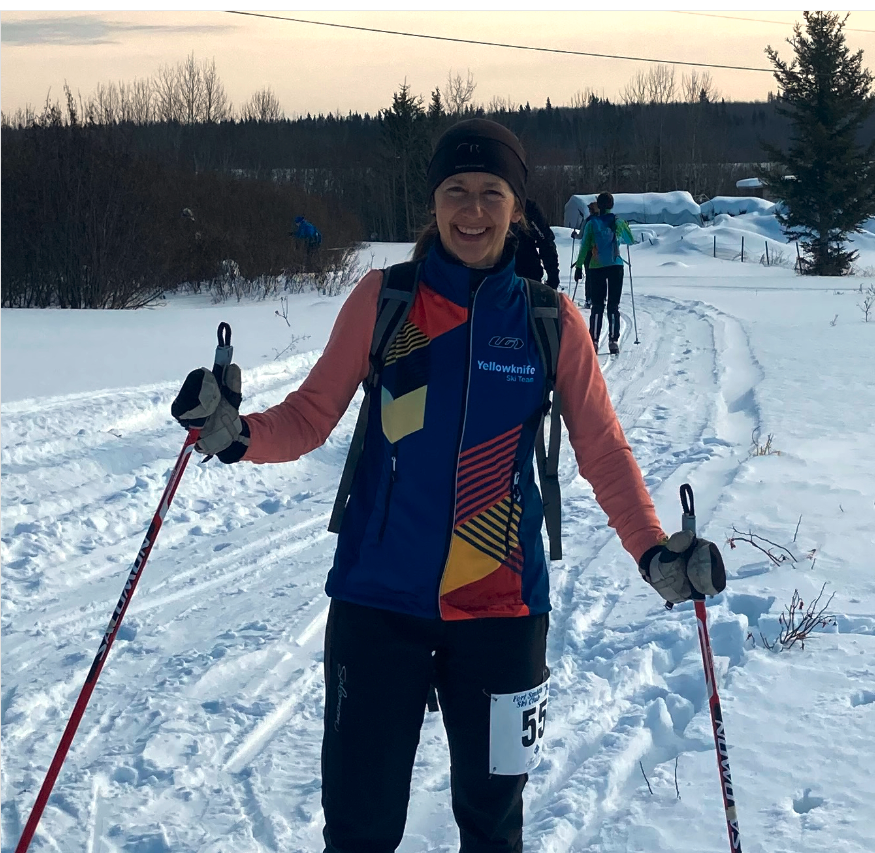 And the 2022 Nordiq Canada award winners are….
Involvement on the trails and in the meeting room has taken him across Canada, of course. And further afield, to Austria and Sweden. Norway and Italy and Germany.
But that first major event worked all those years ago, at what has been home base for nearly two decades, remains indelibly etched in memory, like the most vivid pencil sketch.
"A Nor-Am event at the Canmore Nordiq Centre, in 2007,'' Mike Norton is reminiscing. "I remember every detail. In 3D. As if it were yesterday. I can tell you exactly what course we used and what snowmobile I was driving.
"I remember working late into the night by myself and getting p—-ed off when no one else was helping. Muttering away: 'Am I the only guy out here?! What's going on?!'
"That was my work ethic at that time. People said: 'Oh, this guy will work all night by himself. That's for me!' I was helping on the course side of things back then.
"I never in one million years could imagine starting a task and leaving it half finished. In these sorts of things, you see it through. A lot of people are relying on you.
"The course has to be perfect. I was a go-getter. That's for sure. 'What courses do I take? Where do I sign up? What can I do?'
"It does make me crazy when stuff isn't straight or perfect."
That obsession to detail and the belief that no task is too small, aligned with a passion for the sport, has manifested itself in a dizzying array of roles.
Officiating, grooming, overseeing, judging – you name it.
Through the years, Norton advanced to FIS Technical Delegate, worked his way up to become a Homologation Inspector, participated at World Cup races, served on Nordiq Alberta's Board of Directors, as well as taking on the role of Sport and Facility Manager at the Bill Warren Training Centre (overseeing the Beckie Scott High Performance Training Centre on the Haig Glacier in Kananaskis Country, Alta.)
And that doesn't begin to scratch his event preparation/management surface.
So now, after starting out in the mid-1990s at Calgary's Canada Olympic Park, he finds himself named among the 2022 Nordiq Canada Annual Awards as Dave Rees Award, presented to a an individual who has made an outstanding long-term commitment to the sport in Canada.
The other outstanding 2022 recipients:
*The Firth Award: To Shawne Kokelj of Yellowknife.
*The Distinguished Volunteer Award: To Eric Luiker of Fredericton, N.B. and Grant Hall (posthumously) of Thunder Bay.
*The Media Award: To Doug Stephen, of Calgary.
"My first reaction at hearing the news? I'm too young,'' admits Norton of his honour.
"I look at some of the recipients of that award … I mean, I've been doing this 20-ish years. There are people on that award who've been doing this 60 years, 50 years, 40 years.
"So I was, quite honestly, like: 'Whoa! Hold on. Yeah, I've done some things, but …'
"I look at Dave Rees himself. Or Blair Dunbar. Dunbar might be on (the Dave Rees Award) twice. He's 75 or 77, had cancer four times. I mean, this man has been volunteering longer than a lot of people have been alive.
"We're very fortunate here. I don't want to downplay what we do but we're at one of the greatest nordic centres in the world. We have a lot of stuff at our disposal. If we can't put on a near-perfect event? We've got problems.
"As I got more into this and started traveling, to other venues, globally, the bar would move up and down. I quickly came to realize that Canmore has one of the highest bars anywhere in the world.
"I'd go to World Cups in .. well, you name it – and say to myself: 'Well, this is pretty good. But Canmore's better.' Honestly.
"So, I'm a little humbled here."
Kokelj, stepping away from her role as president of Cross Country Northwest Territories after four years in charge and a half-dozen on the board, feels a similar degree of disbelief in being singled out.
"Partly, I suppose, because I know Sharon Firth,'' she acknowledges. "Sharon is such a pillar of strength, such a role model for so many people, particularly here in the NWT.
"So, to receive an award named after her is … well, indescribable. When I found out, the first thing I did was text her.
"For years Sharon went to the schools and skied with the kids. It's dark. It's cold. But she wouldn't mince words. 'Come on! Let's get out there. Let's move. Let's have fun.'
"She was a rock star to them. An idol. A motivator."
But Kojelj's own impact, in fundraising, organizing local events and providing logistical support for teams travelling out of territory – always a challenge for northern residents – can be classified as nothing short of profound.
"I love working with people to come up with solutions and ideas,'' she enthuses. "That's what can be really exciting. To see another wave of Arctic Winter Games and Canada Winter Games. Athletes who are excited about these incredible events. That's thrilling.
"And to be the recipient of the post-secondary scholarships that we offer, and to see those an investment in our future coaches. It's exciting to see them come to the NWT, come to a club and start helping out."
Over the past six years, membership in NWT has grown 40 per cent.
"We have 33 communities in the NWT and only four clubs,'' she explains. "We're wonderfully lucky to have the clubs, the programs, the events that they run and the incredible volunteers to keep them running.
"That being said, we have all these other communities full of people who are potential skiers. So, to expose them to activity and the outdoors is something we do, as well. Sometimes, when we manage to get successful events in non-club communities – mostly with kids, but not exclusively – that is what's phenomenal to me.
"To hear the reports back from all the events, club and non-club, of course. The non-club events, though, particularly resonate, kinda leave you feeling all warm and fuzzy. Particularly now, with the recommendations from the Truth and Reconciliation Commission, looking to empower, to motivate and activate, to provide capacity, at the community level.
"To have one iota of contribution to that is pretty special."
Special also describes the Toronto-born Luiker's influence on skinny skiing since he relocated to Fredericton, N.B. – his wife's home province.
In 2012 he founded and continues to run the competitive ski team at Wostawea Cross-Country Ski Club. Wostawea has grown into Atlantic Canada's largest, approaching 1,100 members and with 45 kilometres of trails at two locations.
Luiker credits a shift in venue in the burgeoning success of the program.
"It originally started in a downtown park called Odell that has some gorgeous old-growth hemlock forests, but it had its limitations,'' he explains.
"At that time, I was the Jackrabbit co-ordinator and a recreation director said we should move to Killarney, which is a city park outside-in. By doing that we were able to expand; we brought in someone who knew how to design cross-country trails, so we now have pretty high-level set of trails. We fund-raised for a PistenBully and also got something we call our Ski Cross Terrain Park off the ground.
"Those are the big infrastructure or geographical things. We've grown monumentally registration-wise since then, and I think our move to Killarney was a big, big step in that.
"The other aspect is we're bringing a level of cross-country skiing that hasn't been in Fredericton before."
Holding a Masters in physiology from the University of Guelph, Luiker continues to be amazed at the conditioning levels in the sport.
"The fitness level of a high-level skier is through the roof,'' he marvels. "For me, there's nothing as challenging as, say, going up a ski hill doing off-set.
"It's just a cardio level that's simply off the charts.
"To see athletes perform at that level is amazing. Just makes me proud of the sport knowing the level of dedication you need to get there. You can't just fluke, you know, the 'I'll try it this year and next year I'll be a good athlete'.
"No. Sorry. Not happening."
Hall, who passed away in December of 2021, spent 10-plus years on the Board of Directors for the Lappe Nordic Ski Club in Thunder Bay, Ont. During that time, club revenues skyrocketed from $25,000 to $140,000, with much credit going to the immensely popular, indefatigable Hall.
He'd been volunteering at the club since the early 2000s, along with wife Judy. Their two daughters skied at the club.
In 2005 the Hall family was presented with the Diehard Award, given to people who embody the penultimate volunteer in all areas of cross-country skiing.
On the media side, Doug Stephen's array of race photographs, available to Nordiq Canada athletes and their parents, have helped families collect cameo-keepsakes of special moments, special races, special memories, and been a boon in promoting the sport.
There are countless qualities the 2022 Nordiq Canada Annual Awards winners share, along with countless others who count skiing.
Commitment. Passion for the sport. A love of the outdoors and its bounty.
Along with a keen sense of, for want of a better word, duty. To skiing, its participants, and its ongoing growth.
"You feel you can never do enough to receive recognition like this,'' says Kokelj, speaking for all. "The thinking is always: 'But I could've done this' or 'I should've done that.'
"People talk about how much you give. And you do, give. But, honestly, it really does feel a bit selfish, at times. Because the rewards you get in return are so great."