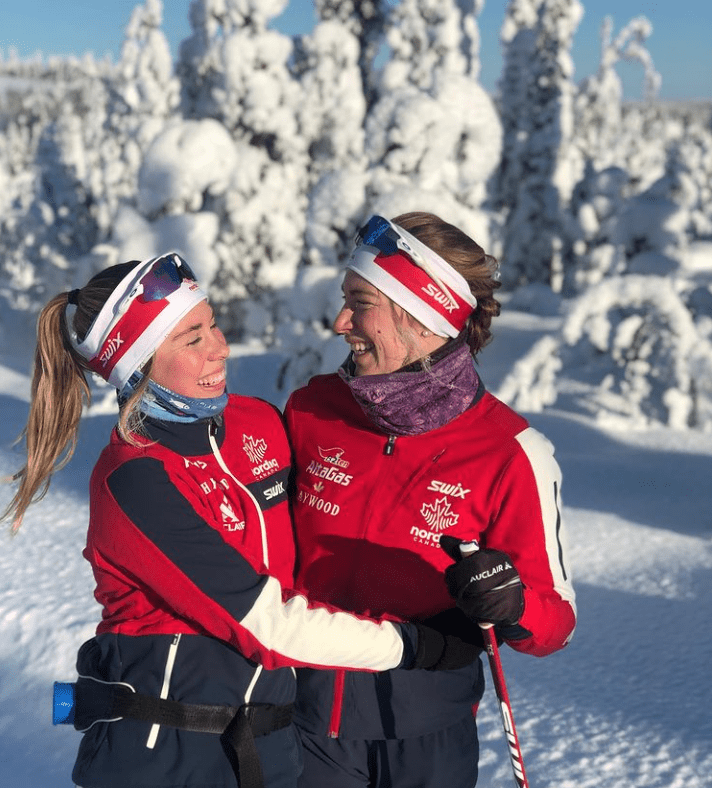 Athletes Transitioning to Coaching – Sharing Wisdom and Celebrating Breakthroughs on the Side of the Trail
Quite understandably, after missing out on Pyeonchang 2018 and the culmination of a lifelong dream by nothing more than a whisper, a heartbeat – one slender second – Maya MacIsaac-Jones' high beams are locked in on one thing.
On February, 2022.
On the Kuyangshu Nordic and Biathlon Centre and the XXIV Olympic Winter Games.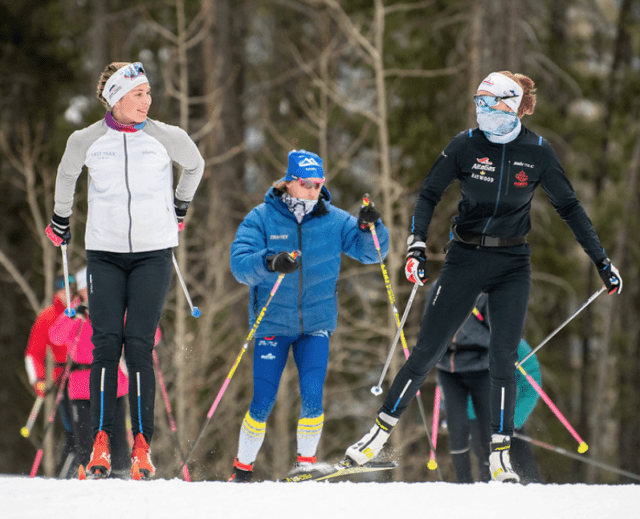 "At the moment,'' she acknowledges, "my racing is for sure my first priority.
"Beijing is something I'm obviously so very passionate about. Being at the Olympics. That's my big goal. That's everyone's big goal."
Down the road though, with the idea of delving deeper into coaching, she's working towards her coaching certification while competing.
"I really enjoy learning about people and how they react to different situations,'' explains MacIsaac-Jones. "Because of the Olympics next year I'm currently only coaching one day a week at Foothills Nordic in Canmore. That doesn't take away from my training, and it actually gives me added energy in my connection with the athletes.
"The coaching I'm doing is great, and adds a lot to my personal goals. To this day, I still have a lot of ideas of what I'd like to do when I finish ski racing but for sure I got interested in coaching as a younger athlete. I think it'd be an amazing opportunity, to coach."
She'll make a fine one, predicts Stephen Novosad, Coach Pathway Manager for Nordiq Canada.
"When I see the amount of generosity in Maya,'' he enthuses, "well, it's incredible. We need to be careful not to abuse that where she is in her stage of development.
"If I look at Graham Nishikawa, too, he's making the transition from athlete to guiding Brian McKeeever in Para-Nordic skiing to coach. He's recognized he has something to contribute.
"There are others, of course. These people all share a passion for what they do and a great level of humility for learning.
"They care and it's absolutely inspiring."
During this, National Coaches Week across Canada, many athletes and former athletes in any sport you care to name are paying homage to those special men and women, the mentors who inspired them, by giving back in the same way.
In MacIsaac-Jones' case, the motivation to lead, to instruct, to enlighten, was implanted by John Jaques, a long-time coach in Canmore and the Para-Nordic National Ski Team Biathlon Coach.
Just as Chandra Crawford's individual sprint gold-medal Olympic performance in 2006 at Turin, Italy turned the young MacIsaac-Jones onto a future on skis, Jaques helped instill in her an appetite to help other skiers.
"I worked with him for close to 10 years in Canmore and he was a very creative coach, very honest with his athletes, and really encouraged independent thinking,'' says the 26-year-old from Athabasca, Alta., who is striding into her fourth year on the Senior National Ski Team.
"He got me thinking a lot about my own training, and as I progressed to being a senior athlete I was lucky enough to work with coaches who also encouraged me to think for myself a lot.
"The last few years I've worked with Chris Jeffries, Erik Braten, and currently I'm working with Julia Ystgaard. Getting to work with those types of people has increased my interest not just in the athlete side of the sport, but also in the lasting impact a coach can have."
The transition, athlete to coach, points out head coach of the Para-Nordiq team Robin McKeever, Olympian and then brother Brian's guide at the Paralympics, certainly isn't for everyone.
"The hardest part for athletes converting to coaches is understanding the differences in psychology,'' he points out. "You have to be quite selfish as an athlete and then you absolutely have to transition to become completely selfless.
"Usually, athletes who are capable of not being selfish make excellent coaches, and the ones who are quire selfish during their careers may not. That's not to say someone can't change.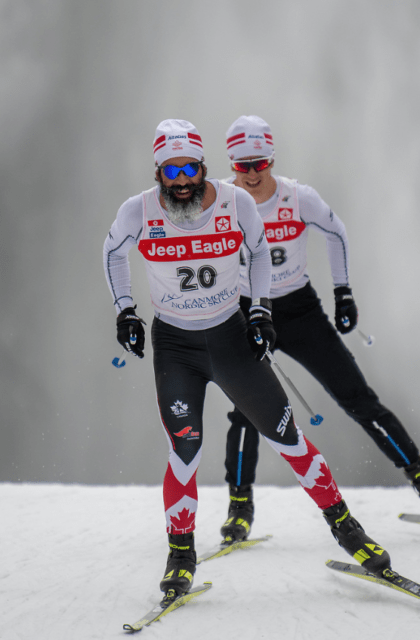 "You need to be able to deal with a lot of personalities, no question. An emotional EQ that is quite high in dealing with different people in the way they need to be dealt with."
When McKeever retired from chasing his own Olympic dreams, he continued to guide for his brother and then, in a somewhat unorthodox fashion, segued into coaching in 2003.
"After the 2002 Olympics, I kinda did another year. It wasn't over as far as guiding for (Brian) but it was as far as the National Team was concerned,'' he recalls. "I was expecting a child, so I had jobs lined up with both Fischer, a ski company, and Brooks, a shoe company. I thought 'I'm going to have nothing left to do with the sport outside of equipment.'
"Then the Foothills Nordic Ski Club called up and asked if I'd apply for their head-coaching position. I flat-out told them no. Then I thought about it for a day – they called back and asked if I was sure, they'd heard I'd make a great coach and I was like: 'Oh, I don't know what I'm doing, blah, blah blah …' Then: 'Fine, I'll give you a resume.'"
And …
"That was the best decision I've ever made in my life."
For Nishikawa, settling into his current role as Development Para Coach, the calm, take-it-on-yourself attitude of his first tutor while growing up in Whitehorse, Alain Masson, provided the teaching spur.
"I wouldn't,'' he acknowledges gratefully, "be where I am today without him. Alain's philosophy was: 'If you want to go for it, I'll show you the way. But it's up to you. It's on you. I can't get you up at 6 in the morning. I can't get you out at minus-40.'
"That really resonated with me. It worked for me. Yeah, he was there as support, but it ultimately is about the athlete believing and just going for it.
"You can't just tell somebody to go win a gold medal."
Nishikawa continues to guide for the most decorated Paralympic skier in history, his friend Brian McKeever, as he has through the last two Winter Paralympics. With competition travel curtailed due to COVID-19 a year ago, though, he began to work more closely with Nordiq Canada's Para-Nordic high-performance director, Kate Boyd, and Robin McKeever.
"Kind of getting my feet wet, learning the ropes,'' he explains. "But from my standpoint it was a huge success.
"I've been ski-racing my whole life, been a part of it at a high-level for the past 20 years. I've gone through so much as an athlete, so I've really been enjoying working with other athletes on the side of the ski trail; leaning on what I've seen through sport, and my experiences, to help them.
"I understand what they're going through. I've been there.
"When they tell me: 'Oh, I'm so tired, my legs feel like lead', I know that feeling. I've done that. So I can be: 'That's normal. No problem. Don't sweat it.'
"I'm able to support them in that aspect.
"When I'm trying to communicate something, change their technique, teach them or help them learn a new skill or set a personal best, it's a challenge, but extremely rewarding. It's not only when they get a good result or win a gold medal that you feel good about coaching. Seeing those breakthroughs on the side of the trail, the gradual improvements, it's like a 'Wow! They got it!' type moment.
"In helping them improve or a change in how they're skiing for the better … you feel good. Better than good. Absolutely."
Giving back while staying involved in a sport they love and have committed so much time toward while carrying forward lessons – both competitive and life – that helped them along the way.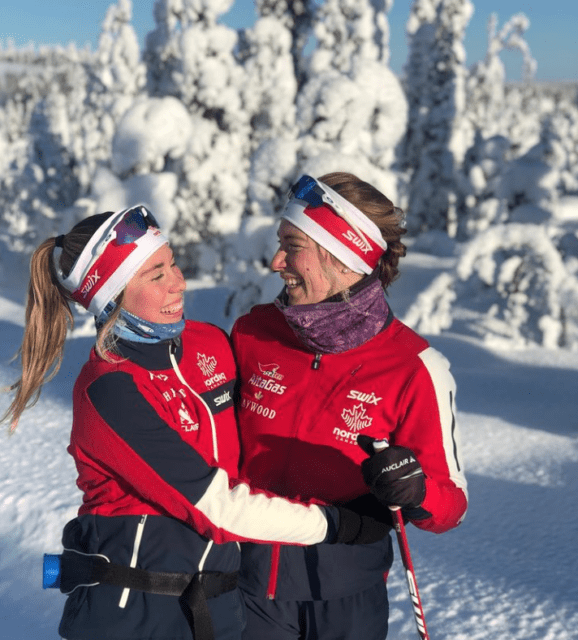 A pretty sweet deal, for all concerned.
"The best coaches possess a lot of drive and motivation, are really ready and willing to put so much into what they do,'' emphasizes MacIsaac-Jones.
"They have no choice. Coaching is definitely not a 9-to-5 job.
"For me, when I coach, I'm trying to carry forward the things I've been taught and one to believe in, such as athlete autonomy.
"There's so much satisfaction in essentially giving athletes the tools and the knowledge they need so they're capable of making decisions on their own; so they're able to best know their bodies and know their minds.
"You get so much out of it and hope they do, too."