Gold Medal Profile: A Roadmap to Medal Performances
Julie Beaulieu has a canny way of describing Nordiq Canada's Gold Medal Profile.
"It's not a magic bullet … it's a destination brochure."
Beaulieu, acting high performance manager for Nordiq Canada, is one of several individuals who have drawn up what is called the Podium Pathway, a roadmap to collecting medals internationally in cross-country ski disciplines.
The two main ingredients on the pathway are the Podium Track Results and the Gold Medal Profile (GMP).
"It targets a number of performance pillars for a fictitious gold-medal athlete," Beaulieu explains of the GMP, "if we were to create the perfect athlete, this is what their actual traits would be in each of these pillars.
"In each of these pillars, we define key performance factors with specific targets," she explains. "Then you build a system from that. It's essentially a gap analysis tool; we look at the current athletes we have against this benchmarking. No athlete is ever going to be 100 per cent in every single area, but the idea is that we continuously assess our athletes against these benchmarks and create their programming around that to get them closer."
This gap analysis is already being used to measure the progression of national team athletes in both of Nordiq Canada's Paralympic and Olympic streams.
"The podium pathway starts about eight years out of a podium performance," said Beaulieu. "When an athlete decides to be a competitive, high-performance athlete usually around the ages of 15, 16, 17 the goal is to get them on the podium at 24, 25, 26 years of age.
"While it is OK for a lot of members of our community to keep  celebrating 'best in Canada', we are hoping that the GMP will help our community get even more excited about striving to win international medals now that they will see a clear pathway to get there'. The strategy here is to create a more robust development system for our athletes, which will ultimately result in more international medals."
Nordiq Canada has worked closely with Own the Podium and the data analytics team at Canadian TireBiathlon Canada and the Canadian Sport Institute in Calgary.
"It's the underpinning of everything we'll be doing moving forward in our drive to get Canada's Nordic athletes back on the podium and consistently fighting for international medals," concurs high- performance director, Kate Boyd. "It allows us to dig into our strengths and weaknesses in the system."
The plan is to also make the Podium Pathway applicable to young competitors at the club and provincial level, so they have a clear pathway to begin to follow early on in their careers.
"Why are we really doing it? It's a best practice," adds Beaulieu, who has also worked with Canada's high-performance canoe kayak and wrestling programs before joining Nordiq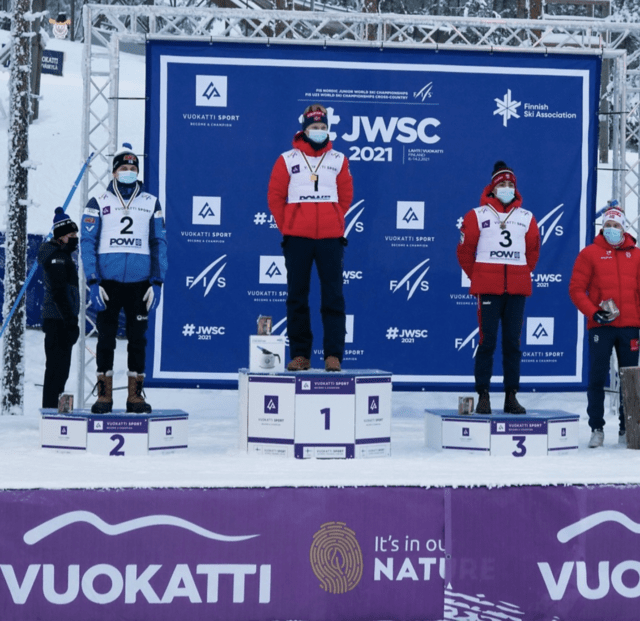 Canada.
"It is no coincidence. National sport organizations that are able to create a clearly identified podium pathway significantly increase their medal potential. It allows high-performance staff to closely monitor the athletes in the system, and ensure the athletes are meeting key benchmarks in their continued development. It is a working, living measurement tool that we have to stay on top of, and continue to adjust as needed.
"One of the things is our athletes are looking across this great chasm, the great unknown. What we need to do is start creating these stepping stones along the way that demonstrate progression while motivating athletes and having the ability to retain them in the system."
One of the critical parts of the Podium Pathway is that it is evidence-based and expert driven, not just some fly-by-night opinion-laced narrative. This has been a multi-year project that has involved many sport science and sports medical experts.
Athletes will be supported and challenged throughout their development in each of the performance pillars, including physical and performance metrics, tactical, technical, mental, health, equipment and daily training environment.
"A lot of coaches have their own way and it's really important to simplify the language," points out national Para-Nordic coach Robin McKeever, alluding to the technical aspect of the initiative. "We have to be as efficient as possible."
The physical component, for example, deals with elements such as anaerobic capacity, speed endurance and maximum aerobic speed. Nordiq Canada already has a great set of tests called run, jump, pull for club and provincial/territorial-level athletes.
"One of the things we're looking at with existing protocols is how we can align them to be consistent with the entire pathway," Beaulieu noted.
Podium track results, the other key part of the pathway, were started two years ago, involving the ranking of results and the progression of athletes. Every athlete who is associated with the International Ski Federation (FIS), as well as the International Paralympic Committee/World Para Nordic Ski is charted in their respective genders, distances, classifications and styles.
It is hoped that the pathway can bridge the gap from junior results to World Cup senior results, which has been one of Canada's biggest issues.
The purpose of the overall initiative is to prioritize training into mitigating strategies for each athlete, in essence create individualized training programs.
"It's critical that athletes understand the pathway and take ownership and independence in their training as well," said Beaulieu. "At the end of the day, we're only going to see those athletes on podiums if our entire community works and collaborates together on this. I'm not here to say we've nailed it and it's perfect. We don't have illusions of grandeur. But we have an incredible brain trust behind us to help develop this.
"I do believe at the end of the day, we all want to see more Canadian athletes on the international podium. What we're hoping for in this is … that from the club to the division to the national level, we are all working together through this common goal.
"We were joking before and I said 'we need a theme song' and the more I thought about it, you know what our theme song is?
"It's our national anthem. I want to hear 'O Canada' more often at international as much as possible."