Skiing to the Tips of the Country – Nordiq Canada's Four Points Club
Canada, the winter sports haven that it is, has 338 Nordic ski clubs scattered in all parts far and wide where cross-country enthusiasts and up-and-coming stars can click into a pair of skinny skis and partake in their favourite pastime.
We examine the furthest of those points – taking our community on a journey to our most westerly club in Whitehorse before heading to southern Ontario. Our trail across the country will then lead us to a visit on The Rock in Newfoundland, and will end with a beautiful introduction to skiing in Canada's north in Iqaluit.
Given these clubs are located in the furthest points of our vast country, they all face similar challenges and opportunities based on their geographic locations. Despite having to navigate through these challenges – which range from weather conditions to limited populations – they all continue to function and remain a key piece of Canada's Nordic community through a shared passion for cross-country skiing.
West – Whitehorse Ski Club
The westernmost cross-country ski venue in Canada is in the Yukon, specifically the Whitehorse Ski Club.
The club boasts approximately 1,300 members and countless recreational non-members in a town of 27,000, which is a huge fraction. Out of that number, about 80 children are registered for the racing program, which begins each year in October.
The club opened its doors in the early 1980s, a legacy of the World Cup and North American Championships Whitehorse hosted in 1981.  It's about a five-minute drive from downtown so it's very accessible.
"Certainly under the leadership of the present coaches, it's really organized so the kids can come after school and they probably ski three to five times a week depending on their age," explains Dominic Bradford, the president of Cross-Country Yukon who is also a member of the club.
"The program develops activities ranging from high performance racing to fun Valentine's Day relays and dress-up races, things like that. And of course there's always food. After a ski practice or ski race, there's always a community gathering, and someone is responsible for bringing food and someone else is responsible for serving it."
Given the popularity of the sport in the region, attracting families doesn't appear to be an issue. But a few specific events each year help to cement that interest.
"The first is an open day where ski rentals are free and trails are free," Bradford explains. "That's early in the season. The second is called the Hut to Hut to Hut. We have three different huts and if you do a circle of them all, it takes about a 15k loop; it's open to everybody and there are corporate sponsors at each hut.
"The last big community event the ski club sponsors is the Yukon Ski Marathon and that's an A to B race. That's getting more and more popular each year."
The ski club development program also starts in October. Those who are more serious about the sport and show some promise are typically identified by about age 14. As well, camps are put on in May and older kids are invited to attend. Those identified as 'high performance' have the opportunity to travel.
"This past year we had four athletes who went to Canmore for a week to participate in a camp; training with the national coach while rubbing shoulders with other athletes in Canmore, including our two skiers (Dahria Beatty and Emily Nishikawa) who are on the National Ski Team," Bradford adds. "It was a chance to be mentored by our own people, but in a different environment."
South – Wildwood Club
At the southernmost edge of this nation, we find the Wildwood Club, home of the Polecats and brainchild of Steve Sauder, who helped found the facility in 1984.
The trails are situated on a farm belonging to Peter Baldwin and draws mainly from Ontario communities of St. Mary's, Stratford, Woodstock and Ingersoll.
South implies warmer climes and that is the biggest challenge the Wildwood Club faces.
"It's been off and on," Sauder says of the weather. "From 2007 to 2009, we had excellent winters. We were skiing in November right through March. Now the last two years have not been great. We have had lots of snow and we get it all groomed, and then we have a few good days and we're getting rain and ice, and we have to shut down again. Last year, we probably only had about less than three weeks of good skiing, so it was very difficult."
Weather notwithstanding, Wildwood is the perfect place to get a taste of the sport.
"It's a good way to introduce young people into cross-country skiing," Sauder acknowledges. "They'll go a little farther north to Highlands Nordic to pursue a little more skiing with more consistent snow. But we have people of all ages, lots of seniors who use the area on a regular basis. The club is a training ground for some of the local high schools as well. Because we're southern, it's a little difficult to predict the weather so they usually have a back-up of a northern facility as well."
It may be small, but given the proximity to large cities and towns, the Wildwood Club has enjoyed its share of successes.
"We've had some great results out of the club," Sauder explains. "Bob Thompson, who was on the National Ski Team, his family are members of the club. He's been a lifelong member. We've had a number of Ontario champions who have come out of our club, students who've gone on to earn scholarships. We have kids who've come through our programs that are now coaches at universities, in Guelph and Waterloo."
The numbers of participants ranges from 100 to 300 depending on the conditions.
"The biggest event we had was a challenge event on the courses, the military came in and set up these huge obstacles and hundreds of peoples came out," Sauder recalls. "We have trail grooming days in the fall; we've tried a weekly night race series. But it's pretty much come out and ski!"
East – Avalon Nordic Ski Club
Situated on a peninsula stuck into the north Atlantic, with the currents from the south warming the land, it isn't easy being the Avalon Nordic Ski Club.
Based in St. John's, Newfoundland, Avalon is the only ski club on the peninsula and it operates out of two facilities – the municipal campground in St. John's and a provincial one a half hour out of the city.
The Avalon Club was incorporated in 1972, initially as the St. John's Ski Club. These days, you'll see as many as 320 participants and as few as 150 – once again succumbing to the elements.
"Oh, yes, oh yes," admits president Colin Taylor. "Three years ago we had 300 people; the last two years have been dismal. Last year, we had a huge start. We got snow the first week of December; by Christmas, it was gone. I don't think we saw snow again. We did get snow-making equipment a year and a half ago but we're still trying to figure out how to use that. In a couple of years, we'll be able to make snow within the city.
"Some of the older members of the club … one guy said last winter was the worst winter he's seen in 40 years. I skied three times and I usually ski 2,000 kilometres a year. When there's no snow here, I'll drive two hours to another club that has snow."
The majority of the skiers who call Avalon home come from the St John's metropolitan area. The rest are from within a 25km radius, from places like Mount Pearl and Conception Bay.
"The amount of people who ski relative to those who join the club is vastly different," Taylor explains. "When the snow comes, people ski and people join the programs.
"If we look at skiing separate from the club, in a good year there's no advertising required. People ski. Do they join the club? Not necessarily. People don't join the club to access the facilities; they join to access the programs."
These include Jackrabbits, a challenge group and adult lessons, as well as a junior development program.
North – Aniirajak Ski and Adventure Club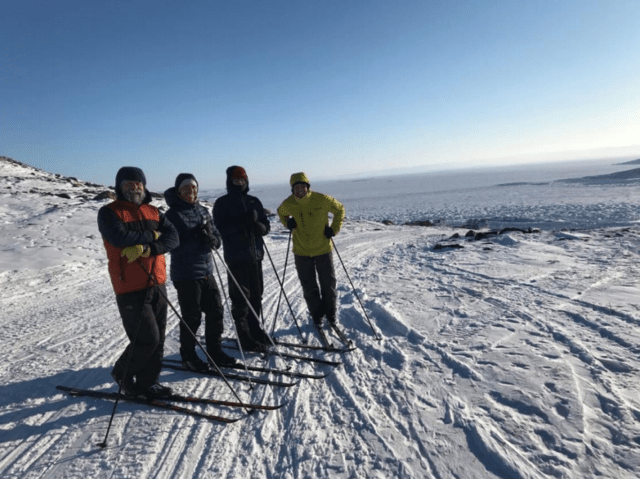 There is no more apt name for a ski club.
Aniirajak is an Inuktut word which means 'playing outside'.
And that is what the Aniirajak Ski and Adventure Club promotes.
Based in Iqaluit in Nunavut and incorporated officially in 2015, Aniirajak is the northernmost club on our list.
"We started a bit small by just doing outings," says Francois Fortin, the Club president.
With some organization, the club has introduced more special events during the spring festival called Toonik Time. They have a loppet, an under 2km race, the youngest to take part Fortin recalls being three or four years old.
Like a child, the Aniirajak Club– which also serves as an information centre – is growing each year. There is a temporary clubhouse but, through partnerships with private companies, Fortin says they're starting to lobby and do feasibility studies in order to put up a permanent site.
"Conditions are really special here," explains Fortin, who has been there for seven years. "There are no trees. In some ways, it's the paradise of cross-country skiing. You can ski anywhere in any direction. There's no limit to how far you can go."
What with in-school and after-school programs, as well as a huge Facebook platform, the hope is the community, which can be somewhat transient, will embrace the Club as its own.
"The community is starting to see what the club can bring," says Fortin.
"What happens in the north, there's a lot of turnover. The vision of our Club is to build something sustainable. I think if we build infrastructure like we're trying to do, it's something the community won't want to let go. There will always be people to take over.
"Last year, we had a great, great season and this year will be even bigger."
The Club also wants to create a team to participate in major national competitions, the Arctic Winter Games and eventually the Canada Games.
"We're really following the new Nordiq Canada model, all Canadians on skis and more Canadians on podiums," says Fortin. "We want to develop the ski culture in the north. There's a lot of potential in Nunavut. It's a great way to go on the land and connect."
There is a common thread running throughout these clubs and all clubs in general and that's a love of skiing.
It's an activity by which Canadians craving the great outdoors can enjoy during those long winter months, and regardless of the differences on display in the four corners of this country, these clubs continue to keep that cross-country spirit alive and thriving.