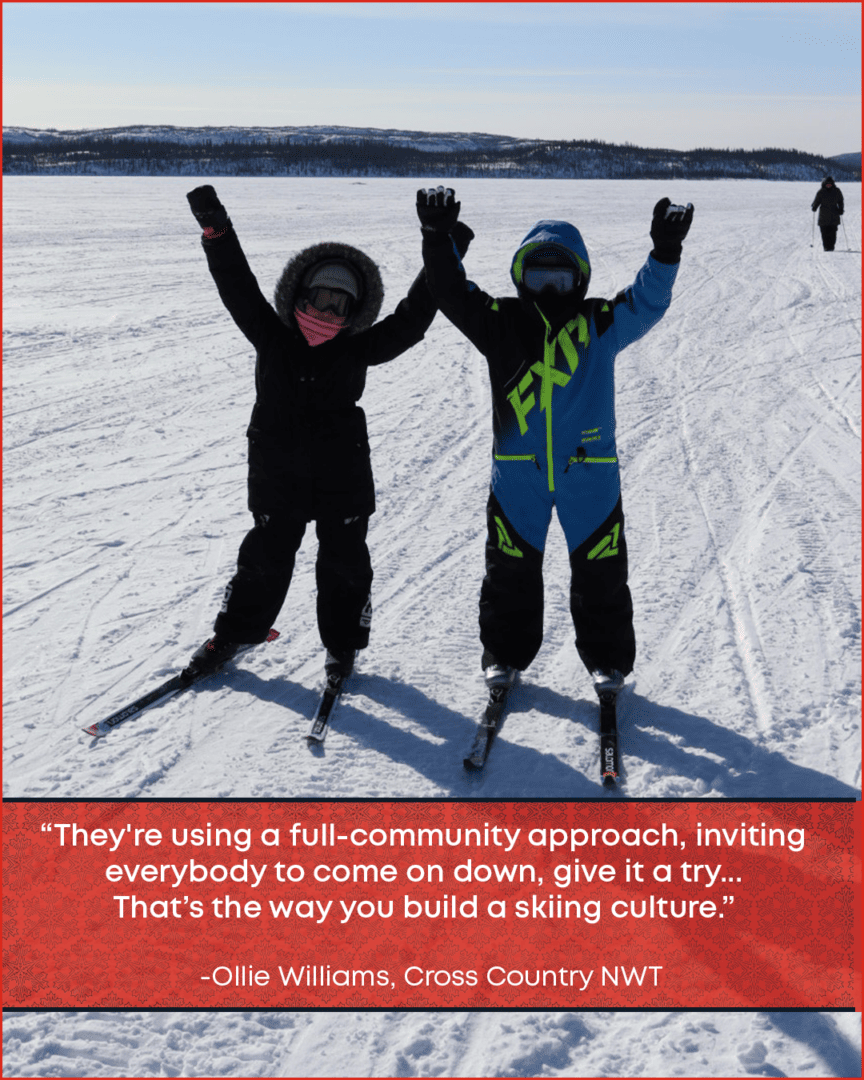 Cross-Country Skiing: Building Community in Canada's North
Boasting the world's most northerly golf course, Ulukhaktok is a small hamlet on the west coast of Victoria Island, located in the Inuvik Region of the Northwest Territories.
"We're fly-in only,'' reports Bryan Stone, a teacher at Helen Kalvak Elihakvik school, and an avid cross-country skier. "Four hundred people, total. So, yeah, it definitely qualifies as a remote community.
"It can feel pretty isolated. I remember in my early high-school years, it was like 'Oh, yeah, we're going to race the next town over …'"
"Here, the next town over is a long way over."
Which is precisely why Cross Country NWT was a great choice for $130,000 in funding through the Sport Canada Community Sport for All and Nordiq Canada Equity Initiative.
The initiative is designed to build community and increase access to sport. Cross Country NWT used the funds to partner with Spirit North, a national charitable organization founded by Olympian Beckie Scott that uses land-based activities to improve the health and well-being of Indigenous youth. Together, they brought cross-country ski programming to nearly 30 northern communities across the vast north, including Ulukhaktok.
Logistics, as mentioned, being the most singular challenge.
"Here, there is no 'next town over','' ruefully notes Ollie Williams, who helps Cross Country NWT with public logistics and administration.
There are, he points out, virtually no opportunities to ski in a new community or alongside fresh faces, new people, in new places.
"From Yellowknife, for instance, the nearest town with a ski club is somewhere around a five- or six-hour drive, at best. And no one's going to drive that for a weekend ski.
"So, one of the most exciting things about the project we're going through right now is that it allows us to create circumstances where youth from different communities get together and ski together, and have that sort of environment that I expect people sometimes take for granted in the south. But for us, is not conceivable on a regular or even occasional basis for us in the north."
"Communities need infrastructure that we often don't think about. They need people, they need resources, they need ideas and energy and enthusiasm and zeal, and they need physical infrastructure; they need connections between people.
"Maintaining that all at once in an area twice the size of France with a population of 40,000 is really hard. So, we need all the help we can get in making those connections that provide fresh energy and enthusiasm.
"Which is why this project is so exciting. It provides an energy the sport can then feed off of afterwards."
Stone has been involved in cross-country skiing for a decade plus, competing on North Bay, Ontario's Nippising University team, before moving north to join the faculty at the 110-student Helen Kalvak Elihakvik school.
Naturally, heading north to launch a teaching career, he packed his skis.
"All the kids saw me skiing,'' he recalls, "and wanted to give it a try, so I looked for some funding and was surprised at how quickly everybody jumped on board – the idea being, 'if the kids are interested, let's make this happen.'
"So, it was pretty cool.
"Two years ago, I started up a ski club and I was really surprised at the funding, the interest and the initiative that the school board and the community took to it. They threw a good number of skis my way and so we were able to get a bunch of kids out on the snow relatively quickly.
"Boots, poles and skis … we were able to outfit everybody. And there's a big shipment of skis that arrived this year.
"It just so happened that the sea ice is perfect for skiing so we have this nice, big, wide-open area to ski.
"Getting some consistent attendance from students is still a work in progress. But on special-event days with the school we see a lot of interest, especially from the younger ones."
Williams is something of a different story. Born in south England, he worked his way up to Olympic sports correspondent for the BBC. While in Vancouver to cover the 2010 Winter Games "I met a girl" and the course of his life detoured rather sharply.
"After the 2012 Olympics in London,'' he says, "we decided to move back to her part of the world, and wound up in Fort Liard" – a hamlet located 37 kilometres north of the British Columbia border.
From London, England, pop. 8.8 million, to Fort Liard, NWT, Canada, pop. 468.
"And,'' he reports, "I loved it. A phenomenal place to live. I loved the NWT."
So, he quit the BBC, relocating to Yellowknife, where he bought, and continues to run, Cabin Radio, a NWT news web site and online radio station.
"And I wouldn't have it any other way. The exciting thing for me is that while I may be generally terrible at skiing, I'm going to have at least a tiny little part in helping the next generation in NWT to realize that this sport is great and that they live in a part of the world that is ideally suited to it.
"Even for someone as bad at cross-country skiing as me, the opportunity to go out and bash around a frozen lake on skis with a German Shepherd tied to the front of you is just … heavenly.
"Absolute bliss.
"You are forever trying to do as much as you can with the money, and the people, that are available, as well."
Williams is quick to point out that he is but "a tiny, tiny, tiny part of this" project, singling out Sarah Pruys, communications specialist/ multimedia journalist at Cabin Radio, and Annika Olsen of Spirit North as driving forces behind this project.
"We have people from Spirit North going out to these communities, we have teachers in these communities, recreation co-ordinators in these communities,'' emphasizes Annika Olsen of Spirit North. "They're the ones on the front line, actually delivering this programming.
"Anything we can do to introduce more people to skiing, the better."
The programs generated by the grant are, all agree, creating a current of interest in many, many NWT communities.
"A really exciting piece is that we're going to have visitors from Nordiq Canada up here for an entire week to try and get the whole community involved in skiing,'' reports Stone.
"That's fantastic. The students travel south for competitions and things like that but to actually have someone come north is a little bit different, and great to see; really important.
"Also, they're using a full-community approach, inviting everybody to come on down, give it a try. That way you're getting parents interests, siblings interested.
"That's the way you build a skiing culture."
Cross-country NWT is a territorial organization (there are only four actual Clubs located across its 1.3-million-kilometre expanse), so its mandate is to help all residents get involved in skiing.
"That's where the resources come in, the challenges come in, because if you don't have a club and you have to fly into a community, then getting ski instruction and getting people to learn about our sport is really difficult,'' sighs Williams.
"That's why this project is so meaningful, and we hope will have a long impact.
"I'd quantify it by saying Cross Country NWT's annual budget is around $100,000. This project is worth $130,000. So, we're receiving more than our annual funding to be able to do this. You don't have to be an accountant to realize what that means.
"It's incredibly hard to get the right people into the right place at the right time and find the money that you want to have to get as many people as you want to get into as many places as you want to get them.
"We have some really successful projects in the NWT area.
"But we can't underplay anything on this scale, so it's really exciting to be involved with it.
"Hopefully it's a foundation for us to be able to do it in future."
Photo by Spirit North Leader, Mike Doyle-Baker